Find the right accounting system
There are many good accounting systems, but have you chosen a system that fits and is optimal for your business? We make independent assessments of which system is suitable for the customer. In Athene Group, we are not locked into one accounting system. We offer complete financial and accounting systems that suit the customer's needs. In addition, we have long and good partnerships with system suppliers and can present the differences in today's accounting systems. We can adapt the standard solutions to the customer's needs. If you want to integrate the accounting system with other professional systems that you use, we can assist with this. Contact us for more information.

Our accounting systems
We only deliver cloud-based systems that were born and raised in the cloud.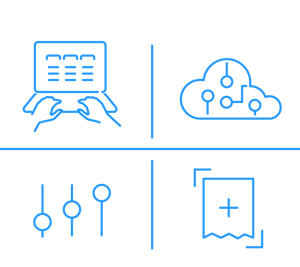 When choosing a cloud-based system, there are many factors to consider. In addition to basic functionality such as invoicing, accounting and reporting, you often need systems that take care of payroll, timekeeping or engineering - if not right away, then maybe sometime in the future. As your business grows, your needs will change and you are often left with developing or buying new solutions that meet the new needs that arise. If you manage to see these needs in context, and be prepared for growth and change, then it is both time and money to save.




We are a partner with, among others, Xledger, 24SevenOffice, Tripletex and PowerofficeGO. Together we can find the best cloud solution for your business.

Experience a simple and efficient ERP system
Do you need a user-friendly financial system that also solves the more complicated tasks?
24Sevenoffice is a complete ERP system with a solid module for accounting and finance, which solves most of what you need in a finance system. With 24SevenOffice it is easy to get started, and not least to adapt the system to the company's needs and size. Click here if you want a demo of the system with one of 24Sevenoffice's skilled consultants.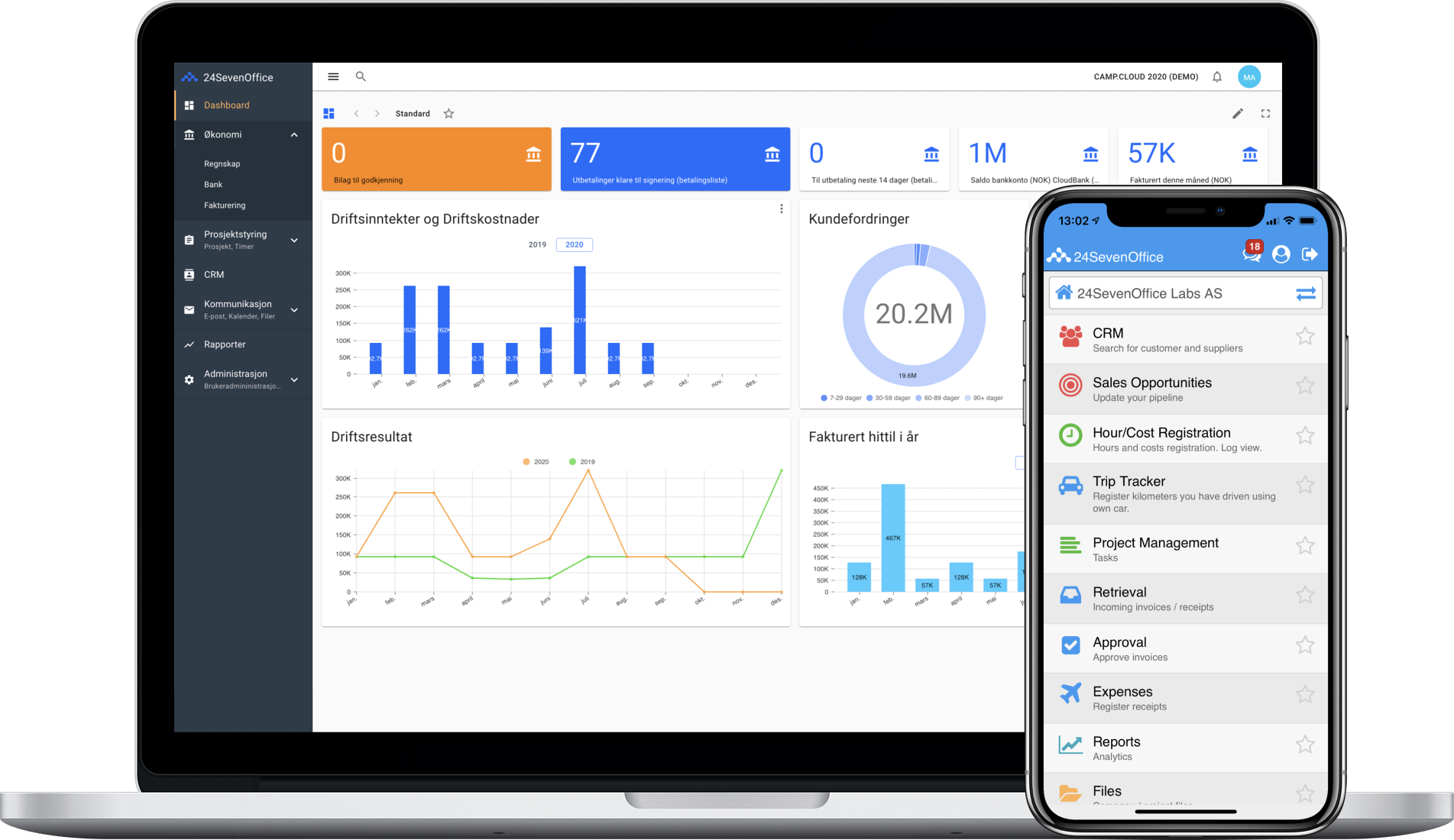 The ERP system itself is module-based and has an open API so that you can easily tailor the system and workflow with a wide range of integrations. This facilitates that customers and partners of 24SevenOffice are free to grow without the business system placing restrictions.

The solution consists of modules for:
The company currently has around 140 employees and offers 24SevenOffice ERP systems in Norway, Sweden and the USA, with headquarters in Oslo, Stockholm and New York.

Cloud-based ERP for companies with ambitions
Xledger enables ambitious companies to grow by simplifying day-to-day financial management.

Xledger is a cloud-based ERP system that automates a variety of manual processes, from bank reconciliation to invoice management. In Xledger, you have the insight you need to make informed decisions based on real-time data. Xledger makes it easy to create new business units and scale without obstacles.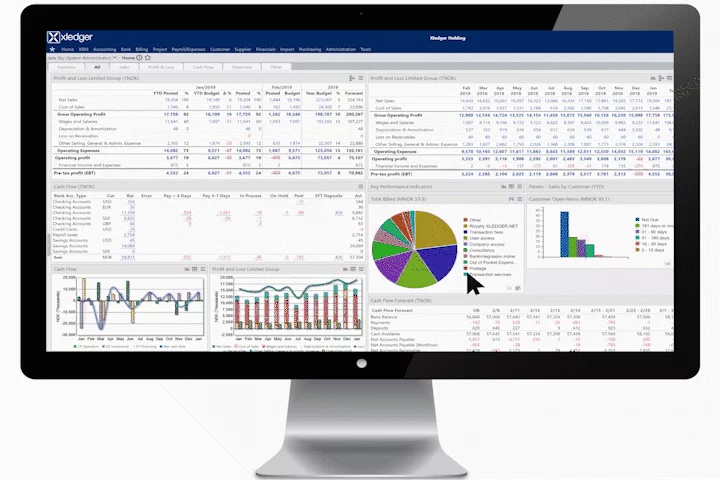 With Xledger you get a cloud service (SaaS) and no investment in hardware or software is required. The system works right out of the box and no programming, coding or setup is required, but there are great customization options for those who want it. In addition, Xledger has all the functionality in one and the same system, you do not need any additional modules beyond xledger. It is of course possible to integrate your pre-system and there are a number of ready-made integrations.

Athene Group became a partner of Xledger already in 2005 and was one of the first partners to use the solution in Norway.

We are today among Xledger's largest partners and with our long experience we will be a good choice if you want to use Xledger. Our consultants make implementations for both small and large companies and integrate external systems. Whether you need to handle projects, time capture, currency, group structure or other, our consultants can assist with this.

Tripletex simplifies everyday life for small and medium-sized businesses in all industries.

Tripletex is a cloud-based and flexible financial system that can be easily adapted to your company's routines. With automatic payment solutions, efficient document registration and easy role distribution between you as a customer and us as an accountant, you get a system that gives full control over your company's finances where we work together based on your company's needs.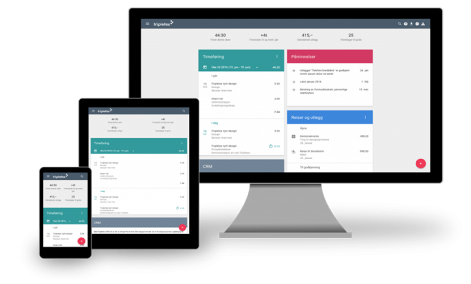 Tripletex is cloud-based, and thus always available both online and on mobile. Furthermore, Tripletex is known for its many integration options, so you can easily customize the system to meet your business needs. The modules for invoice, accounting, timekeeping, payroll, project management and CRM are seamlessly integrated with each other, and you choose which ones you want to use. Tripletex also delivers customized industry solutions for electricians and plumbers.

A complete cloud-based financial system
Tripletex consists of many different modules and additional services, and you choose which ones you want to use. All modules are seamlessly integrated with each other, and in this way Tripletex is suitable for everyone - from the smallest to the larger companies. And best of all: you only pay for what you need!


Accounting and invoice
With Tripletex's simple user interface, you always have full control over your company's accounts. Use the invoice module to easily create orders and send out invoices in the desired format.

Salary and travel expenses
Tripletex's functional payroll system saves the company costs and facilitates simple and clear payroll payments. It's all done based on your needs. With Tripletex travel invoice, you can enter allowances and expenses in the same form, and you can upload the receipts as attachments. You decide when the travel bill is to be paid.

Project management and time registration
With project management, you can easily create projects with project participants, customers, orders and invoice plans. In addition, you can follow the project's development completely automatically.
CRM
Tripletex delivers a cloud-based CRM solution that is seamlessly integrated with the other modules. Here you get sales forecasts, follow-up of prospects, integration with Google Calendar, sales reports etc.
Want to know more about prices and services? Contact us for a no-obligation chat and a free demo of Tripletex.

All in one system
With PowerOffice Go, you have a complete system for accounting, invoicing, time registration, travel expenses and payroll.
PowerOffice Go is made from scratch for you as a user.
You should spend less time on all tasks and get elegant reports that are easy to understand.
Get ready for a whole new experience.
The system is best suited for small and medium-sized companies located in Norway that like neat systems that are easy to understand.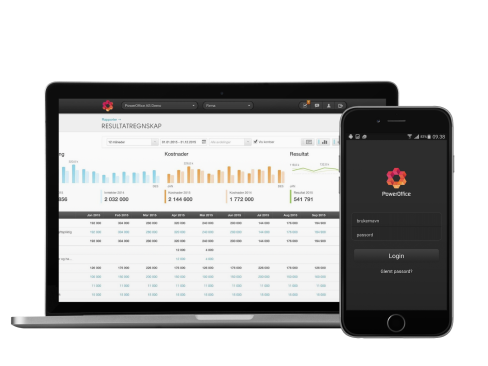 Time registration
In PowerOffice Go, timekeeping can be added as an integral part of the accounting service. This way you get registered and invoiced every single hour!

Travel expenses
With PowerOffice Go, filling out travel invoices becomes playfully easy. Start the registration of the trip as you walk out the door at home and register expenses, receipts and travel allowance on your mobile while you are on the road.

Offers, order and invoice
Invoicing in Go is done quickly, easily and efficiently. Invoices can be created for groups and sent automatically. Payments are collected from the bank daily and posted automatically in the accounts.

Accounting
With PowerOffice Go you get a full overview of the accounts. Payment can be made directly from PowerOffice Go. This saves you important time and avoids jumping between different systems.

Payment
Always easy access to your payroll system. Updating employees and paying salaries is a breeze. If you have an external accountant, this is just a chat bubble away.

Reporting
Keep track of a number of reports, such as balance sheet and result. The reports are interactive and can be traced down to transactions, department, project or other dimensions.
Questions about systems? We will contact you